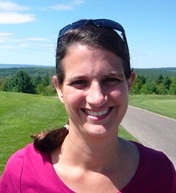 Assistant Professor of Spanish
Office: Bliss Building 322
Phone: (609) 771-3420
Ann Warner-Ault received her M.A. and Ph.D. in Spanish from Columbia University with a focus on Latin American literature and culture. She has presented and published on a range of topics including avant-garde art and literature, community-engaged learning, digital humanities, and study abroad. Ann led the TCNJ semester in Spain in 2015 and a TCNJ study tour to Peru in 2018. In 2016-2017 she served as interim assistant dean for The School of Humanities and Social Sciences. Ann received a New Jersey Manufacturers grant for 2018-2019 to work with TCNJ students, Dr. Susan Ryan and Trenton's Puerto Rican community to create short documentaries about the history of Puerto Ricans in Trenton. She is currently collaborating with Dr. Robert McGreevey, Isabel Kentengian and several community organizations in Trenton to implement a large-scale oral history project with Trenton's Latinx community.
More information about the Trenton oral history project (including many of the short documentaries) is available at the following sites:
COURSES
FSP 102: Becoming American: The Hispanic Experience in the U.S.
SPA 101: Spanish for Beginners I
SPA 102: Spanish for Beginners II
SPA 103: Spanish for Beginners II
SPA 203: Intermediate Oral Proficiency
SPA 211: Spanish Composition and Grammar Review
SPA 241: Introduction to Literature in Spanish
SPA 270/ HON 270: Technology and Culture in Spain and Latin America
SPA 302: Advanced Oral Proficiency
SPA 370: Avant-garde Art and Literature in Spain and Latin America
SPA 497: Senior Seminar
DEGREES EARNED
B.A. – University of Texas (Austin)
Secondary School Teaching Credential from St. Edward's University
MA; Ph.D. – Columbia University
PUBLICATIONS
Related to Literary Research:
"The Estridentistas and Contemporáneos Reimagined: Debating the Legacy of the Mexican Literary Avant-Garde." Forthcoming in Revista Hispánica Moderna.
"Manuel Maples Arce, Salvador Novo and the Origin of Mexican Vanguard Autobiographies." Revista Hispánica Moderna. 67.1 (2014) 91-108.
"Mexican Identity as Collage: Gilberto Owen's La llama fría (1925) and Novela como nube (1928)." Latin American Literary Review 42.1 (2014). 50-74.
"La pérdida de la inocencia en el viaje: Un análisis de la situación de unos jóvenes inmigrantes en unas obras recientes" El viaje a Íthaca. Ed. Juan Liébana, Hobart and William Smith Colleges: 2012. 57-68.
Related to Second-Language Pedagogy and Study Abroad:
Ann Warner-Ault, Isabel Kentengian, Jon Stauff. "A Sense of Place: Creating Spaces for Intercultural Learning in Study Abroad." Book chapter in People-Centered Approaches Toward the Internationalization of Higher Education. Edited by Gabrielle Malfatti. Hershey, PA:     IGI Global (August, 2020).
"Promoting Intercultural Learning Through Synchronous Video Exchange: A Talk Abroad Case Study." IJCALLT (International Journal of Computer Assisted Language Learning Technology)10.1 (2020). 1-14.
Christopher Ault, Ann Warner-Ault, Ursula Wolz, Teresa Marrin Nakra. "Kinesthetic Communication for Learning in Immersive Worlds." Book chapter in Serious Game Design and Development: Technologies for Training and Learning. Edited by Janice Cannon-Bowers and Clint Bowers. Hershey, PA: IGI Global, 2009.
Ann Warner-Ault. "Global Learning in a Pandemic: Using Synchronous Video Exchange to Deepen Intercultural Understanding." Book chapter in Emerging Concepts in Technology-Enhanced Language Teaching and Learning. Edited by Bin Zou, Michael Thomas, David Barr, and Wen Jia. Hershey, PA: IGI Global. January, 2022.