This summer Ling-Ling Lu, TCNJ junior from the Department of World Languages and Cultures, participated in an English teaching internship, "Assisting Individual with Disadvantages" (A.I.D.) sponsored by the Overseas Community Affairs Council, Ministry of Education and the Council of Indigenous People in Taiwan. Ling-Ling taught a group of under-privileged tribal students in a rural mountain area called Zhi-Ben, Taitung. During the hot summer days, Ling-Ling spent countless hours working on her teaching plan and building a strategy to inspire these middle school students.
"The Zhi-Ben mountain area is at the east coast of Taiwan island, we could see the beach from the school. It was very beautiful despite the hot weather," said Ling-Ling. "However, being given the opportunity to teach in Taiwan this July has been one of the most challenging but rewarding experience ever. There were times where my team and I were put in difficult situations, but with the support of our students and fellow teachers, we were able to overcome them. It was a fun and challenging experience."
Dr. Celia Liu, who was also traveling in Taiwan during July, went to visit Ling-Ling in Zhi-Ben and in Taipei during the A.I.D. training with hundreds of volunteers from all over the world. "I was really proud of our TCNJ students who made sacrifices and contributed to the world's education as a caring global citizen."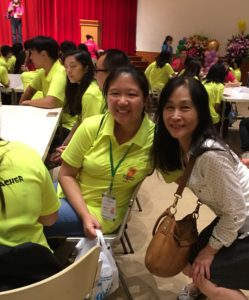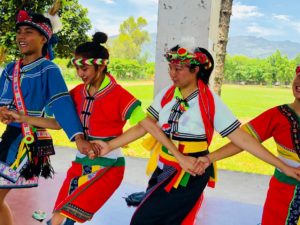 Ling-Ling, (in white shirt), learned the Indigenous dance with the students at Zhi-Ben Middle School Group photo at Zhi-Ben Middle School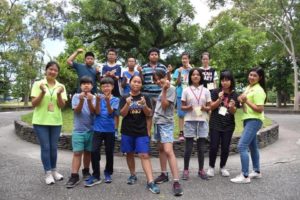 Ling-Ling and her students at Zhi-Ben Middle School, Taiwan.