Do you already know some – or a lot – of Spanish? Are any of the following true?
I speak Spanish or both Spanish and English with relatives.
When I was a child, I spoke Spanish or both Spanish and English at home.
I lived in a Spanish-speaking country for a while, but most of my schooling was in English.
[Learn how actively speaking two languages protects against cognitive impairment]
You may be asking yourself: If I already speak Spanish, why should I take Spanish classes at TCNJ?
---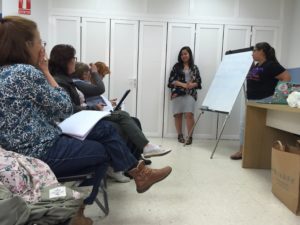 Top 10 reasons
for bilinguals to study Spanish at TCNJ


…even if you hated

your previous Spa

nish classes 
Learn about your heritage and other Hispanic cultures, including the rich Spanish-speaking cultures in the U.S.
Meet other Hispanic/Latino students to learn together in a supportive environment. Everybody else in the Spanish for Heritage Speakers course feels their Spanish "needs improvement" too!
Strengthen your writing skills.
Develop fluency and poise speaking Spanish in public.
Start a major or minor in Spanish.
Get ready for a study abroad experience. TCNJ offers a wide range of options in Latin America and Spain, including our own semester program in Alcalá, Spain, and summer program in Madrid.
Develop the skills to effectively engage with Hispanic communities in an internship or research
Develop the language skills to enable you to use Spanish in your career.
Gain confidence using Spanish anywhere, even at family reunions!
At TCNJ, Our classes are all proficiency-oriented, which means you will focus on using Spanish in a wide range of situations.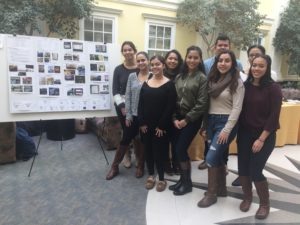 Presenting their research on Spanish in public spaces
But don't take our word for it.
Read what students think.
The course was very helpful and has prepared me to speak Spanish confidently. My pronunciation has gotten better and I have learned so much about the Hispanic culture.
I learned, aside from culture and language clashes and issues, to be proud of myself and to never doubt my Spanish abilities.
This course has helped me learn about the Hispanic culture as well as the language. Our professor's enthusiasm and passion for the course… helped us grow as students and made the classroom a safe zone for us to come and learn as well as make friends and become a team. The course helped us improve our pronunciation, grammar and knowledge on current issues that are going on in the world. The course was also very speaking intensive, which helped a lot.
The class discussions allowed the class to positively share ideas and learn from each other. The part of the class I most liked was the "testimonio/historia oral." This gave me the opportunity to not only learn about my family but to also learn and value the families of my classmates and all other immigrants in the country.
The class has helped me a lot with my decision to pursue a Spanish minor at TCNJ. The Spanish culture is more fascinating than I thought.
Interested?
1. Learn more about SPA210, our course designed exclusively for Spanish for heritage speakers, here.
---
Spanish for Heritage Speakers (SPA210) Course Description
SPA210 is an intermediate course designed especially for bilingual Spanish speakers, those who have learned Spanish in a family or community setting primarily. Through varied assignments that explore the experience of being Latino/Hispanic in the United States, students will gain greater oral and written fluency and accuracy in both informal and formal registers. By the end of this course, students will have developed their linguistic abilities and sociolinguistic awareness to communicate appropriately in a wide range of contexts.
This is a required Speaking Intensive course for bilingual Spanish-speaking students who wish to major or minor in Spanish; this class is taken in lieu of SPA203, which is designed for non-native speakers.
Course Objectives
The objectives of this course are based on the ACTFL Standards for Oral and Written Proficiency, which guide all courses in the Department of World Languages and Cultures, and which offer the students the opportunity to:
• Broaden students' communicative competence and knowledge of the Spanish language;
• Develop students' repertoire of communicative skills in Spanish, both speaking and writing in a broad range of situations;
• Develop fluency in different registers and varieties for different communicative purposes;
• Learn about different Hispanic cultures, with emphasis on Hispanic communities in the United States, to engage students to strengthen their cultural ties with members of their extended communities;
• Understand basic sociolinguistic concepts to develop a critical awareness of the complex sociopolitical context of Spanish bilingualism in the United States and the different varieties spoken here;
• Connect with other subject matters to obtain information only available in Spanish;
• Make analytical comparisons between languages and different cultural groups; and
• Participate in multilingual communities.
All materials, tasks and projects build upon each other and are designed to foster critical thinking in Spanish, thus enabling students to establish a foundation upon which they can progress toward higher levels of oral and written proficiency as described in the ACTFL Oral and Writing Proficiency Guidelines.
---
2. Or about our basic program here.
3. Take the Spanish placement test here.