The Russian program at TCNJ is closed as of the Fall 2020 semester.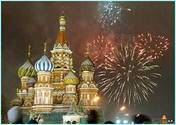 TCNJ offers Russian as an intensive language, for 2 units per semester for the first three semesters (RUS 151, 152, 251). First-semester Russian (RUS 151) is offered annually in the fall; second-semester Russian (RUS 152)' is offered annually in the spring. Third-semester Russian (RUS 251) is also offered annually in the fall, while fourth-semester Russian (RUS 252) is offered annually in the spring. RUS 252 is a 1-unit course.
In first-year Russian, we use Golosa Volume 1 by Robin, Evans-Romaine, and Shatalina, the most popular college-level textbook for first-year Russian, in its latest (5th edition), together with its extensive audio-, video-, and computer-based activities available on the web at <https://www.gwu.edu/~slavic/golosa/ >. This textbook is published by Pearson/Prentice-Hall. In second-year Russian we use Golosa Volume 2 by the same authors.
TCNJ offers a minor in Russian Studies. RUS 251 (third-semester Russian) is required for this minor. Students complete the minor by choosing from 3 other units worth of coursework; they may choose from more Russian language courses or courses in English about Russian history, literature, or culture. For information on the Russian minor, please go to the Undergraduate Bulletin (Click on 'Humanities & Social Sciences,' then on 'World Languages and Cultures' and search for 'Requirements for the Minor').
News
Students who participated in the US Department of Education UISFL funded alternative spring break program in Vladimir, Russia in March 2013 gave a presentation about the breaking of cultural stereotypes at TCNJ's annual Celebration of Student Achievement in May 2014. Pictured from left to right: Skyeler Sudia, Michael Schiumo, Joanna Peluso, Kyriaki Christodoulou, Kathryn Wertheimer, and Lia Lumauig.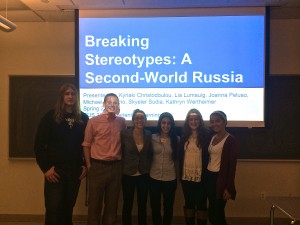 Top 10 Reasons to Study Russian
_______________________________________________________________________________________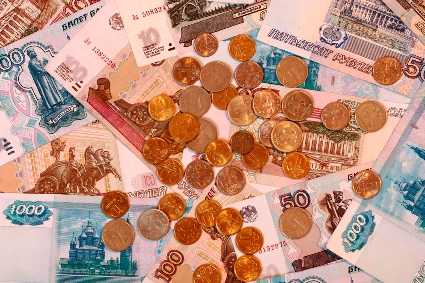 ***
***
***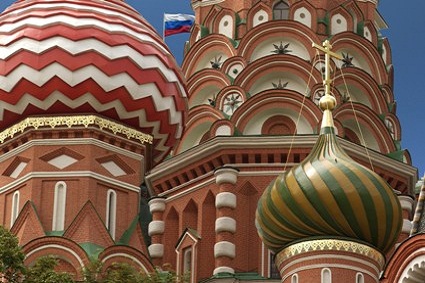 ***
***
***
***
***
_____________________________________________________________________________________
Program Coordinator
Dr. Alex Berg
Instructor of Russian
Office:Bliss Building 325
Phone: (609)771-3152
berga@tcnj.edu