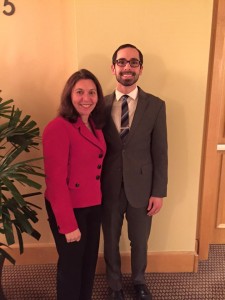 2010 TCNJ graduate with a Self-Designed     major in Italian, won the FLENJ teacher of the year award.
FLENJ Foreign Language Educators of New Jersey         and NECTFL celebrated all the finalists for Teacher of the Year.
Pictured are FLENJ President Elect Amanda Seewald and the   2016 FLENJ Teacher of the Year Michael Kowalczyk of Bishop   Ahr of Edison, NJ.
Congratulations, Michael!