When you think of The College of New Jersey, Italian might not be the first major to come to mind. Rightfully so, since it's not even an official major! Yet we found our calling studying Italian at TCNJ so we're going to tell you why we love it and why you would too.
No matter what it is about Italian that you wish to study, you can do it here at TCNJ as part of what is called a "Self-Designed Major." The three common tracks that students enter into are Italian Studies, Italian Language & Linguistics, and Italian Secondary Education. Whichever one you choose, the wide variety of courses from literature to film to history to culture offers you the possibility to find your own niche within your studies and to create a unifying thread that ties your entire program of study together. Some choose to focus on the Italian South, others the role of women throughout Italian history, others immigration. The choice is yours. This is all further strengthened by the excellent professors and the small class sizes, which both allow individual attention and input into your personal interests.
For those who are looking for a more technical study of Italian and where it came from, linguistics is a natural complement. Studying the structure, history, and details of Italian provides a foundation not only for Italian itself but also facilitates the acquisition of other languages in the future. The study of Italian also goes hand-in-hand with other majors, most notably International Studies and Communications. This is the perfect pair for someone who is interested in working in International Relations, politics, for a company in Italy, or as a representative for a company that does business with Italy.
What sets Italian at TCNJ apart from Italian at other colleges would have to be the Conversation Hours. For all students who begin with introductory courses, in addition to the biweekly language course, they also participate in a weekly small-group conversation hour. Instead of being led by a professor herself, an Italian student takes the lead role and creates activities that encourage students to put their language to use in a natural setting. It's a more relaxed classroom environment and it provides students the all-important opportunity to speak Italian. On the other end of the spectrum, this provides the more advanced Italian students the ability to put their own language skills to use by creating engaging activities for the newest members of the Italian program. Ask anyone who has led a conversation hour and he/she will tell you that it is one of the most enjoyable and rewarding parts of the Italian major.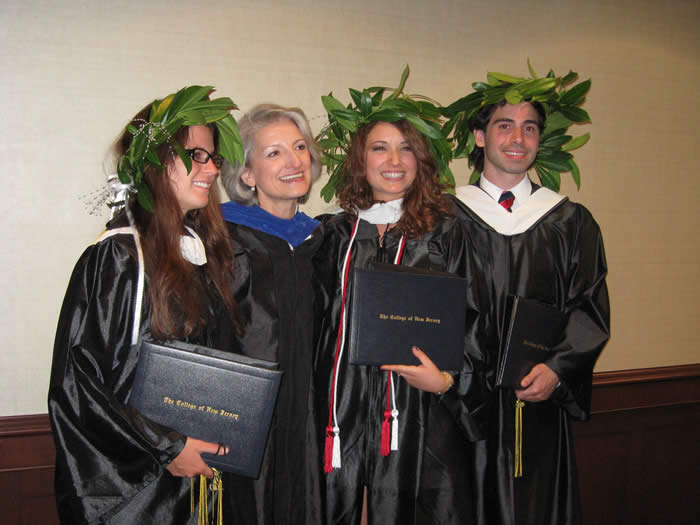 Perhaps the most important aspect of studying Italian at TCNJ, and the one that is most looked forward to, is the semester abroad. From a linguistic standpoint, this offers students the opportunity to put what they learned at TCNJ into real-world use. Having immersed themselves for several months, students return from their semester abroad with a greater understanding and appreciation of the culture, language, and people and a new confidence to speak and use the language. Additionally, students have the unique opportunity to see new places and form lifelong friendships with fellow classmates from all over the world. It is truly a once-in-a-lifetime opportunity.
Whatever it is about Italian that inspires you, there is no better place to uncover more about it than at TCNJ.