Pending approval, anticipated for spring 2023
The TCNJ Spanish for Professional Purposes Certificate Program consists of four distinct Spanish certificates: Spanish for Healthcare, Business, Psychology and Counseling, and Law and Justice. Each of the certificates builds students' Spanish language and intercultural skills as well as their cultural humility so they can interact respectfully and appropriately in Spanish in their chosen professional area. Students in this program may combine the certificate with their major or minor, or they may enroll in the college for the express purpose of pursuing this certificate program. In the case that such a student then decides to pursue a B.A. or minor in Spanish, one of the 200-level Spanish courses may then count toward the major or minor. Students who decided to pursue a Spanish major or minor may also decide to drop the certificate and count two of the 200-level Spanish classes toward the major or minor instead of the certificate.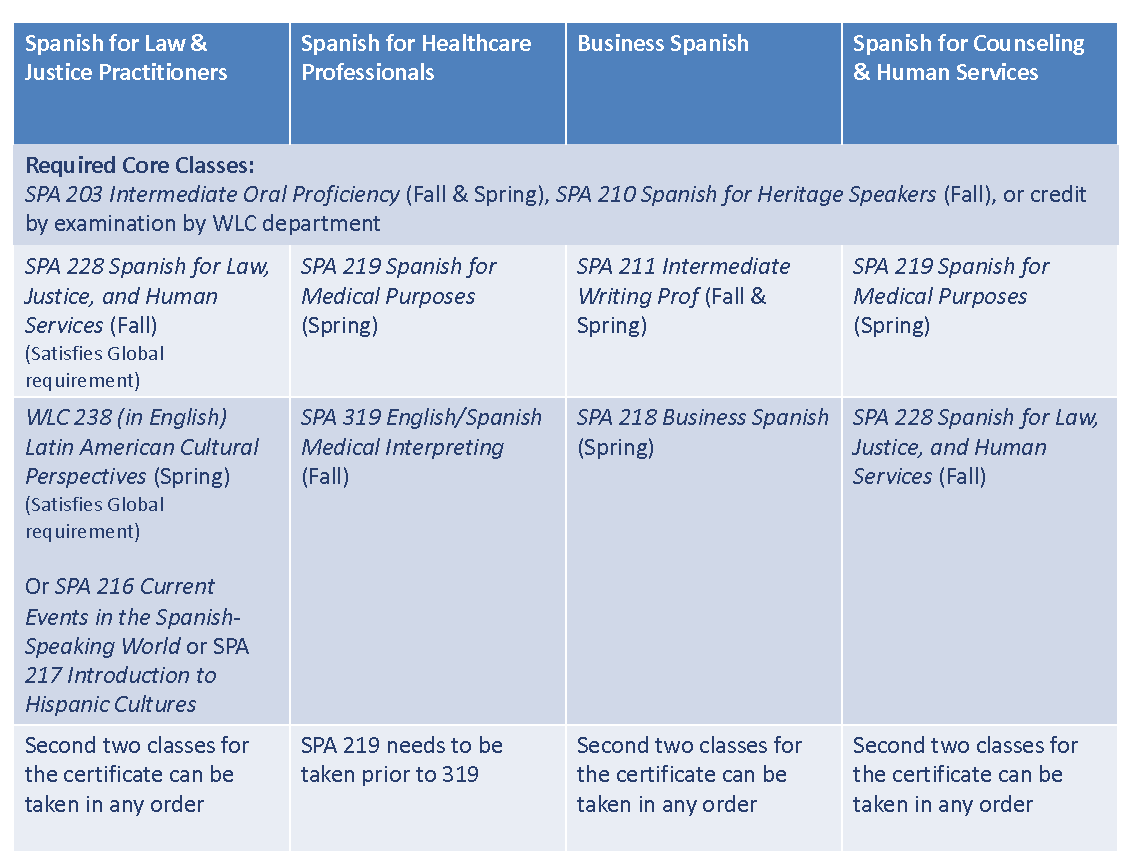 Each of the certificates consists of three courses beyond SPA 103. The first required class in all the certificate programs is SPA 203 (Intermediate Oral Proficiency) or SPA 210 (Spanish for Heritage Speakers), depending on whether the student is a heritage or non-native speaker of Spanish. Students will enter the certificate program by completing SPA 103or by placing into SPA 203 or 210 through the language placement test, or through AP credit. All students enrolled in the certificate program must meet matriculation standards of the College, and must fulfill prerequisites for all required and elective courses.
Rationale for Certificate Program
Spanish is the native language of over 17 million people in the United States and one of the three most commonly used languages in the world. Bilingualism is a valuable credential in today's labor market. From government agencies to education, psychology and counseling, healthcare, law and criminal justice, to marketing, international business, and NGOs, building our students' Spanish language competency and intercultural skills will help them to communicate with future colleagues and clients, and provide them a competitive edge in the job market.
Additional specialized training beyond the required SPA 101-103 language sequence will help to linguistically and culturally equip our students to work in professional sectors with a growing number of Spanish speakers. Classes that focus on specialized professional vocabulary will equip heritage speakers (students who speak Spanish at home) with the writing skills and professional vocabulary to help them become bilingual and bicultural professionals. The courses will also help non-native speakers to develop the linguistic and intercultural skills to build their language skills and professional vocabulary to become culturally responsive practitioners in psychology and counseling, healthcare, business, law, and criminal justice.